HOME Calendar Activities Troop Leadership Patrols Legacy Photo Albums

Becoming an Eagle Scout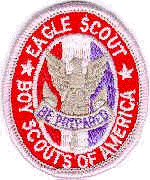 A study concluded that when compared to scouts and non-scouts, Eagle Scouts exhibit significantly higher levels of health and recreation, connection, service and leadership, environmental stewardship, goal orientation, planning and preparedness and character. It's estimated that between 5% and 6% of all scouts become Eagles.
Earning the highest rank in scouting, Eagle, is far more involved than other ranks. Following are links to web pages about the process, a list of Troop 76 Eagles and other resources.
Please contact the troop's Eagle Advisor, Mr. Gary Holland at gholland006@gmail.com on how to reach the highest rank in scouting.
1. Eagle Project Workbook. The latest version of the official BSA workbook. Download this .pdf which can be filled out.
3. Yankee Connecticut Council's web site on the process
4. Eagle Scout Project ideas (link 1, link 2)
5. Eaglescout.org (site dedicated to becoming an Eagle)
6. Eagle Rank Application PDF Additional links on the Advancement Resources page
7. Generating Eagle Scout Congratulation Letters
8. List of Troop 76 Eagle Scouts
9. The Value of Scouting and earning Eagle
10. Can being an Eagle get you in College?