HOME Calendar Troop Leadership Patrols Legacy Photo Albums
Merit Badge Information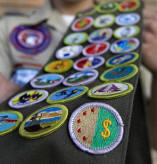 A Merit Badge (MB) is an award that is presented to a Scout when he completes the requirements for one of the merit badge subjects. The badge is only a small piece of khaki cloth with a design embroidered in color, but it has a great deal of significance for the scout and his advancement.

You can learn about sports, crafts, science, trades, business, and future careers as you earn merit badges. There are more than 135 merit badges. Any Scout may earn any of these at any time, choosing those that seem most interesting to them. Some subjects are in craftwork, some in vocational fields, some in service to others, and many in cultural or life skills areas. In addition, certain merit badges are required for the Eagle Scout rank.
Resources: How to Start a Merit Badge: Troop 76's guidelines on the MB process.
Comprehensive List of Merit Badges: A table of every MB with links to useful worksheets, requirements lists and direct links to Scoutstuff.org to buy MB pamphlets online.
US Scouting Service Project: Good, general MB background information

There are several Merit Badge Counselors in our troop and in the area who are qualified to teach the topics and subjects. Please see the Troop Scoutmaster to discuss and obtain a MB Blue card BEFORE starting any Merit Badge. The Scoutmaster will also provide you information about the Merit Badge Counselor(s) for the badge you've selected to work upon, or you can email the Advancement Chair at Advancement@Troop76.org.

The troop encourages adults to become a MB Counselor. To do so, here's the process:
1. Complete the BSA Adult Application, the troop covers the fee. You can download a fillable PDF here.
2. Fill out the Merit Badge application form which you can find here. When completed, please email to Troop 76's Advancement Chair.
3. Take the on-line Youth Protection course (It's about 45 minutes long and you have to create a free www.myscouting.org account first). You can start that process and find the training here.

We'd like to get your applications to BSA's Connecticut Yankee Council Office and Scatacook District Leadership as soon as possible, so please take a moment to fill-in the form and send it back.
If you'd like to learn more about what it means to be a merit badge counselor, you can check out this guide.