Home Calendar Activities Troop Leadership Patrols Photo Albums
Camp Sequassen 2019
(Information links or downloads are in blue.)
Sunday, July 21st - Saturday, July 27st, BSA Camp Sequassen, 791 West Hill Rd., New Hartford, Conn. 06057
Sequassen is a Troop 76 favorite and offers lots of activities for scouts...boating, fishing, snorkeling, climbing, cycling, swimming, archery, rifle shooting and much more! Earn Merit Badges for advancement and personal development. Leading the effort year, scout parent Nicole Genna (nsgenna@comcast.net) has generously volunteered to manage and coordinate summer camp for the troop.
Camp Sequassen is located just north of Torrington in one of the most diversified forests found on one tract of land in the state of Connecticut. Meals for hundreds of scouts are prepared by a professional food service in the Dining Hall. Scouts can take advantage of fully equipped program centers including Aquatics, Scoutcraft, Ecology, Handicrafts, Shooting Sports and Sports/STEM. Senior scouts can elect to participate in high adventure activities such as COPE*, vertical climbing, rock climbing and off-camp tubing. Camp Sequassen is managed by an experienced staff dedicated to providing a superior experience. A comprehesive Leaders' Guide describes the programs, activities, opportunities and rules.
For summer camp to be a fun, learning experience for scouts, adult volunteers are needed. This is a great opportunity to spend time with your son and create great memories. A sign up page for adults will be posted soon.
Fees, Forms and Important Dates
Unless you signed up early, the camp fee is $470.00 for the week which includes meals and standard activities. There are additional fees ($50) for scouts who sign up for LOBO* (explanation at bottom of page), SCUBA ($275) and for Eagle Week* ($40), a specialized week held later in the summer.
Wednesday, May 15th. This is the due date for registration and payment. Please sign up here and complete a separate registration form and return with payment to Nicole Genna (nsgenna@comcast.net) or Tiffany Carlson (treasurer@troop76.org) by May 15th. Please make out a check to "Troop 76". The fee for the week is $470.00 per scout or $430 for a sibling or for a regular additional week at camp.
Remember the additional fees for the additional special programs. (please the on-line brochure for information. A 2019 brochure is not posted on the Council web site).
Discover Adventure for scouts 14 and older (formerly LOBO) - add $50
SCUBA - add $275
Eagle Week Program $40 (added to appropriate base fee)
Lifeguard Training - add $150
Troop 76 group photo - add $10. (We can only give pictures to those who paid ahead of camp)
Prepaid Brunch on the last day of camp (Saturday, 7/27). Add $8/adult, $6/child
T-Shirt - add $10
Also due on Wednesday, May 15th:
- Merit Badge selection form. Camp Sequassen is a great opportunity to earn Merit Badges. Some merit badge requirements cannot be completed at camp. These requirements may be completed before or after attending camp but must be completed before the merit badge is awarded. In order to complete the badge at camp, prerequisites must be accomplished before arriving at camp (merit badge prerequisite list is available here). The summer camp merit badge program requires advanced planning by Scouts and leaders prior to arrival at camp. Scouts may sign up for a merit badge before completing the prerequisites. Merit Badge classes are first come, first served so please submit your merit badge selection form early.
- New Scouts Wilderness Patrol. The Wilderness Patrol is designed for new Scouts attending Boy Scout resident camp for the first time. As Scouts learn and master outdoor living skills like fire building, cooking, map and compass reading, first aid, campsite set up and more, most will complete all but a few requirement for Tenderfoot, Second Class and First Class ranks. There will still be time available to earn at least one merit badge. Unit leaders are responsible for signing the rank requirements completed by a Scout at camp and should spend time each day reviewing and signing off on completed requirements. To sign up, circle Wilderness Patrol on the Merit Badge selection form.
- Discover Adventure registration form and waiver. Scouts 14 and older may enroll in a special high adventure program, LOBO, which combines earning merit badges with high adventure activities such as low and high COPE; biking, hiking and rock climbing off-camp; tubing on the Farmington River and other exciting activities. There is an additional $50 fee for this program. LOBO includes High and Low COPE (Challenging Outdoor Personal Experience) are teambuilding sessions based on a climbing tower and two ropes courses (high and low)
- SCUBA course/Merit Badge forms and waiver. The SCUBA Diving Merit Badge Program provides Boy Scouts, Venturers and Scouters (registered adult leaders) the opportunity to meet all the requirements for the SCUBA Diving Merit Badge, including NAUI OpenWater SCUBA Diver certification. The SCUBA Diving Merit Badge program meets at Camp Sequassen during weeks one through seven of Boy Scout Resident Camp, from 9:00 a.m. to 5:00 p.m., Monday through Friday. All necessary equipment is provided. Participants may bring their own mask, snorkel, fins and/or wetsuit, but this is not required. Participants must be 14 years old by June 30th and have earned the Swimming Merit Badge. First Aid Merit Badge is strongly recommended. Registered adult leaders are also encouraged to participate. There's an additional $275 fee for this program.
- Code of Conduct. At any given day there will be hundreds of scouts and parents at Camp Sequassen. To insure that the experience is positive for everyone, please understand and follow the rules of conduct. Download and sign this form.
June 1st...Important
- State of Connecticut mandated Sequassen health forms due to Nicole Genna, 14 Mead Ridge Lane in Ridgefield. Please read and follow the directions carefully. The form must be signed by your doctor so please leave plenty of time to complete the health form. Without a completed and signed health form, scouts will not be able to attend Camp Sequassen.
July 1st
Scouts eat in a common mess hall and the food is terrific. If your scout has dietary restrictions, please complete a special form and send to Nicole Genna no later than July 1st.
What, When, How and other Details
Please bring your scout and their personal gear to the Baden Powell campsite at Sequassen on Sunday, July 15th between 1:00 p.m. and 1:30 p.m. (We will not meet at the Jesse Lee.) Please park in the main lot at Sequassen where camp counselors will direct you to our campsite, Baden Powell. (Here's a link to the camp map.) Wagons can be helpful to move gear from the parking lot to the campsite. No lunch is available at camp on Sunday. Parents will pick up their sons at camp on Saturday, July 27th.

Directions to Camp Sequassen, 791 West Hill Rd., New Hartford, Conn., 06057. At the Danbury Mall, follow Interstate 84 East for approximately 25 miles to Exit 20 (left exit) in Waterbury. Follow Route 8 North for approximately 25 miles. Take Exit 46 (Pinewoods Road). Make a right onto Pinewoods Road. Make a left at the stop sign onto Torringford Street / Route 183. Make a right onto West Hill Road. Camp Sequassen is 8/10 mile on right. Or click here for Google driving directions from Jesse Lee to Camp Sequassen. Estimated travel time on a Sunday is a little over an hour.

Parents pick up scouts on Saturday, July 21st at 11:00 a.m. (or after our campsite is cleaned up, whichever is later.) All scouts are expected to remain through the closing ceremonies which end at 11:00 a.m., and then help clean the campsite. (Your sons will be very tired at this point and may ask you to leave early. Please mention to them now that they need to stay for the ceremony and then have to help clean up the campsite.)
There is a family brunch on the last day of camp, Saturday July 27th. The cost is $8.00 per adult, $6.00 for youth (6-12 years of age), and no charge for age 5 and under. Payment is due at check-in on Sunday, July 21st.

First day attire and activities - Scouts should wear Class B shirts to camp. (Remember to also pack your Class A uniform.) Scouts who have not completed the swim test beforehand, will need to take it on Sunday at Sequassen. After our Campsite is set up, a Sequassen counselor will take scouts and adults on an orientation tour of the camp.

Please download the camp's recommended equipment list. Scouts will wear full Class A uniforms to dinner at Sequassen and "Class B" on Sunday for orientation. For their Merit badge classes and other day time activities, no uniform is required.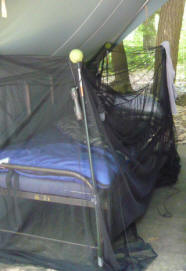 Mosquito netting is required since the platform tents at Sequassen don't include built-in insect netting. The net is draped over four supporting poles, are each 36" - 48" long. Basically they're wooden dowels or PVC pipe (3/8" or 1/2" diameter) topped with cut tennis balls to avoid tearing the netting. (see photo at left). The poles are attached to the cot frame with duct tape or cable ties, and the netting is draped over the top. The troop will bring cable ties to camp.
Mosquito netting may be found on-line at sites such as Ebay.com, Campmor.com, Cabelas.com or Amazon.com It may also be available at Dicks Sporting Goods, WalMart, Eastern Mountain Sports and REI. Wood dowels and PVC pipe are available at area hardware stores, Home Depot and Lowes.

Cots and mattresses...not the most comfortable...are provided. Nevertheless, bring a sleeping bag and pillow. Please let us know if you have a buddy to share a tent. Tenting requests will be accommodated the best we can. Most scouts store their belonging (clothes, handbook, toiletries, etc.) in a large plastic storage bin with a secure lid that's kept at the foot of the bed. There are no washing machines or laundry service at Sequassen. Pack enough clothes for a week.
Also, scouts are expected to stay clean. A heated shower is a short distance from our campground. Please wear "flip-flops" in the shower and bring a small tote bag or backpack to carry clean clothes, towel, toiletry items to the shower.
Remember to bring insect repellant and sunscreen. It may be good idea to add a deck of playing cards or a Frisbee for the camp. There's no electricity at the camp site. Light is provided from the troop's lanterns.
Please remember to pack a refillable water bottle. Large water containers will be at the camp site. If you wish, please bring only one BSA approved knife with your Totin' Chip card, a certificate for the responsible use of a knife. We will make arrangements for new scouts to earn their Totin' Chip cards at camp. Also, boys should bring a notebook and pen/pencil to complete their merit badge assignments. And include some spending money for the Camp Store; snacks and the Sequassen favorite...Slushies! ($1.25 each.)

Don't pack electronics or they'll be confiscated. The adults will have cell phones if you need to call home. The camp office phone is 860-379-2009.

No Food in Tents - Snacks are inviting to animals such as racoons. Storage coolers will be available at the campsite for limited snacks. Do not load your scout with huge amounts of snacks. Please put your son's snacks in a zip-lock bag or plastic container, label the bag/container with his name and store the bags in the cooler at camp. The boys can access the cooler anytime. In addition, please put toothpaste in a plastic bag (Ziploc works well) with your son's name on it. Toothpaste, which smells sweet and may attract animals, will be kept in a separate cooler. Again, scouts can access their toothpaste at any time but it's expected the snack coolers will get more visits.

If any Scouts or adults are bringing Medical forms to Camp, submit to the Camp Nurse and please have an extra copy in case of any complications. The camp nurse and health officer, Dave Nicol, would like to speak to the parents of scouts who have medications at camp. The medical office is called the Health Lodge.

Merit Badges - We will not have the final list of merit badge course assignments until the first day at camp, Sunday afternoon, July 16th. If you're merit badge requests were submitted early, then there's a good chance you'll land in these classes. Later registrants may not get their choices. After confirming your assigned classes, the Merit Badge books are available at the Camp Store, and we'll also be bringing our "library" of Merit Badge books to the campsite.

Mail - Scouts love to receive mail and Care Packages. The address is:
Camp Sequassen, BSA
Attn: (Scout's Name), Baden Powell Campsite, Troop 76
791 West Hill Road
New Hartford, CT 06057-4218
Financial scholarships to attend are available if needed, please contact Troop Committee Chair, Jodie Francis, jodieafrancis@gmail.com. And if you have any questions about Camp Sequassen, please contact Nicole Genna (nsgenna@comcast.net).