Home Calendar Activities Troop Leadership Patrols Troopmaster Web Photo Albums
Camp Sequassen 2017
(Information links or downloads are in blue.)
Sunday, July 16th - Saturday, July 22rd, BSA Camp Sequassen, 791 West Hill Rd., New Hartford, Conn. 06057
Sequassen is a Troop 76 favorite and offers a range of activities for Scouts...boating, fishing, snorkeling, climbing, cycling, swimming, archery, rifle shooting and much more! Earn Merit Badges for advancement and personal development.
Fees, Forms and Deadlines
Camp fee is $450.00 for the week. There are additional fees ($50) for scouts who sign up for Lobo (14 years and older) and Eagle week ($40) . Complete the application and include payment (at least a $50.00 deposit or the entire $450.00 camp fee) and get it to Troop Committee Chair Mrs. Francis no later than Tuesday, May 9th. (Make out checks to: BSA - Troop 76) Applications/checks may be handed in at the next troop meeting. The troop consolidates the applications and checks, then submits both to Council for processing.
In addition to offering fun activities, Camp Sequassen is a great opportunity to earn Merit Badges. Download the merit badge selection form to sign up up to four merit badges. First year scouts will attend Wilderness Patrol where they can get signed off on many basic requirements and earn a merit badge. Mail the completed Merit Badge Form or Wilderness Patrol selections to Mrs. Francis (23 Bloomer Rd. in Ridgefield) no later than Tuesday, May 9th. Merit Badge classes are first come, first served so please submit your merit badge selection form early.
Camp Sequassen requires a completed health form for every scout, and adults who stay overnight. Print out and please read the instructions. It must be signed by your doctors and be in Mrs. Francis' ASM Keating's hands no later than Saturday, June 10th. Scouts who do not have a fully completed health form signed by a medical doctor will be able to attend camp. That's state law not BSA policy.
What, When, How and other Details
Please bring your scout and their personal gear to the Baden Powell campsite at Sequassen on Sunday, July 16th between 1:00 p.m. and 1:30 p.m. (We will not meet at Jesse Lee.) Please park in the main lot at Sequassen where camp counselors will direct you to our campsite, Baden Powell. (Here's a link to the camp map.) Wagons can be helpful to move gear from the parking lot to the campsite. No lunch is available at camp on Sunday. Parents will pick up their sons at camp on Saturday, July 22nd.

Directions to Camp Sequassen - At the Danbury Mall, follow Interstate 84 East for approximately 25 miles to Exit 20 (left exit). Follow Route 8 North for approximately 25 miles. Take Exit 46 (Pinewoods Road). Make a right onto Pinewoods Road. Make a left onto Torringford Street / Route 183. Make a right onto West Hill Road. Camp Sequassen is 8/10 mile on right. Or click here for Google directions from Jesse Lee to Camp Sequassen. Estimated travel time is a little over an hour.

Parents pick up scouts on Saturday, July 22nd at 11:00 a.m. (or after our campsite is cleaned up, whichever is later.) All scouts are expected to remain through the closing ceremonies which end at 11:00 a.m., and then help clean the campsite. (Your sons will be very tired at this point and may ask you to leave early. Please mention to them now that they need to stay for the ceremony and then have to help clean up the campsite.) On Saturday morning, there's an optional family brunch from 9:30 am to 10:15 a.m. for parents and siblings. Price is $8 for adults, $6 for children (ages 6 to 12) and free for children age 5 and under.

First day attire and activities - Scouts should wear Class B shirts to camp. (Remember to also pack your Class A uniform) Scouts who have not completed the swim test beforehand, will need to take it on Sunday at Sequassen. We will offer the swim test in the weeks ahead. After our Campsite is set up, a counselor will take scouts on an orientation tour of the camp to get all scouts ready for a great week at Sequassen.

Please download the equipment list. Scouts will wear full Class A uniforms to dinner at Sequassen and "Class B" on Sunday for orientation. For their Merit badge classes and other day time activities, no uniform is required.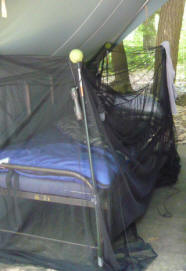 Mosquito netting is required since the platform tents at Sequassen don't feature built in insect netting. The net is draped over four supporting poles, are each 36" - 48" long. Basically they're wooden dowels or PVC pipe (3/8" or 1/2" diameter) topped with cut tennis balls to avoid tearing the netting. (see photo at left). The poles are attached to the cot frame with duct tape or cable ties, and the netting is draped over the top. The troop will bring cable ties to camp.
Mosquito netting may be found on-line at sites such as Ebay.com, Campmor.com, Cabelas.com or Amazon.com It may also be available at Dicks Sporting Goods, WalMart, Eastern Mountain Sports and REI. Wood dowels and PVC pipe are available at area hardware stores, Home Depot and Lowes.

Cots and mattresses...not the most comfortable...are provided. Nevertheless, bring a sleeping bag and pillow. Please let us know if you have a buddy to share a tent. Tenting requests will be accommodated the best we can. Most scouts store their belonging (clothes, handbook, toiletries, etc.) in a large plastic storage bin with a secure lid that's kept at the foot of the bed. There are no washing machines or laundry service at Sequassen. Pack enough clothes for a week.
Also, scouts are expected to stay clean. A heated shower is a short distance from our campground. Please wear "flip-flops" in the shower and bring a small tote bag or backpack to carry clean clothes, towel, toiletry items to the shower.
Remember to bring insect repellant and sunscreen. It may be good idea to add a deck of playing cards or a Frisbee for the camp. There's no electricity at the camp site. Light is provided from the troop's lanterns.
Please remember to pack a refillable water bottle. Large water containers will be at the camp site. If you wish, please bring only one BSA approved knife with your Totin' Chip card, a certificate for the responsible use of a knife. We will make arrangements for new scouts to earn their Totin' Chip cards at camp. Also, boys should bring a notebook and pen/pencil to complete their merit badge assignments. And include some spending money for the Camp Store; snacks and the Sequassen favorite...Slushies! ($1.25 each.)

Don't pack electronics or they'll be confiscated. The adults will have cell phones if you need to call home. The camp office phone is 860-379-2009.

No Food in Tents - Snacks are inviting to animals such as racoons. Storage coolers will be available at the campsite for limited snacks. Do not load your scout with huge amounts of snacks. Please put your son's snacks in a zip-lock bag or plastic container, label the bag/container with his name and store the bags in the cooler at camp. The boys can access the cooler anytime. In addition, please put toothpaste in a plastic bag (Ziploc works well) with your son's name on it. Toothpaste, which smells sweet and may attract animals, will be kept in a separate cooler. Again, scouts can access their toothpaste at any time but it's expected the snack coolers will get more visits.

If any Scouts or adults are bringing Medical forms to Camp, submit to the Camp Nurse and please have an extra copy in case of any complications. The camp nurse and health officer, Dave Nicol, would like to speak to the parents of scouts who have medications at camp. The medical office is called the Health Lodge.

Merit Badges - We will not have the final list of merit badge course assignments until the first day at camp, Sunday afternoon, July 16th. If you're merit badge requests were submitted early, then there's a good chance you'll land in these classes. Later registrants may not get their choices. After confirming your assigned classes, the Merit Badge books are available at the Camp Store, and we'll also be bringing our "library" of Merit Badge books to the campsite.

Mail - Scouts love to receive mail and Care Packages. The address is:
Camp Sequassen, BSA
Attn: (Scout Name), Baden Powell Campsite, Troop 76
791 West Hill Road
New Hartford, CT 06057-4218

Downloads and Links
- Application. Must be completed and in the hands of Mrs. Francis.
- Packing list. Created by Council.
- Camp Sequassen Brochure. Contains a general overview about camp, plus tips for parents and scouts
- General Camp Guide. (also called the Leaders' Guide) The complete camp rules and policies from Connecticut Yankee Council
- Health Form. Must be completed and mailed to council or Scouts and adults will not participate in Camp Sequassen. This is strict BSA policy.
Participants at Summer Camp are required to submit Parts A, B, and C of the BSA Annual Health and Medical Record, valid through the end date of the
appropriate camp session. This applies to both youth and adult attendees. Youth campers also need a completed Connecticut Yankee Council
Addendum. (Health forms only valid for one year so last year's form can't be submitted.)
- Merit Badge Registration Form. Scouts can take up to four Merit Badges, depending on scheduling. Complete this form as soon as possible to secure
your spots because some Merit Badge sessions fill quickly! Scoutmaster Breitenbach needs to sign off and approve the completed form.
- Wilderness Patrol Program for incoming/first-year Boy Scouts.
- Camp Menu...what's served for breakfast, lunch and dinner in the Mess Hall.(menu is still being developed.)
- LOBO Program. A set of high adventure activities for scouts 14 years and older. Scouts 14 and older may enroll in a special high adventure program
which combines earning merit badges with high adventure activities such as low and high COPE; biking, hiking and rockclimbing off-camp; tubing on
the Farmington River and other exciting activities. There is an additional $50 fee to enroll in LOBO. See pages 20 and 32 of the General Camp Guide.
- COPE Program. COPE teambuilding sessions may be conducted for Scouts as a special morning program option for older Scouts. COPE Reservation Form. Requires both
parents to sign a consent agreement form.
- Volunteer Sign up Sheet
Scholarships to attend are available if needed, please contact jodieafrancis@gmail.com. If there are any questions or concerns, please feel free to reach out to Mrs. Francis.