Camp Sequassen...Now Underway
Click here for our comprehensive web page on everything Sequassen.
If you have any questions, please contact Summer Camp Coordinator Nicole Genna at nsgenna@comcast.net
Service Projects
Click on the "activities" link above for details.
Parents: Be an Assistant Scoutmaster

Help the troop by becoming an Assistant Scoutmaster (ASM). Training is offered at Camp Sequassen each week this summer. There are two courses to complete, Introduction to Outdoor Leader Skills (IOLS) and Basic SM/ASM training. Plans call for SM/ASM Basic classroom sessions each Monday from 9:00 a.m. to noon. IOLS will be on Wednesday from 9:00 a.m. to noon followed by a practical session from 1:00 p.m. to 3:00 p.m., including a "Scoutmaster Cookoff" and an overnight experience with the Wilderness Patrol to fulfill the IOLS requirements.

There is a $5.00 fee for each day of the training. Please complete the registration form for each leader attending and send to Carolyn Cruson (Carolyn.cruson@scouting.org). For additional information, please contact the troop's training coordinator, Kristine Keaveny (kskeaveny@yahoo.com).
BSA Today
Check out a new series of short videos from Boy Scouts of America about current topics.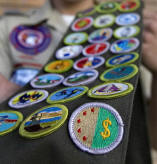 Merit Badge Counselors Needed
Our troop needs parents to become Merit Badge Counselors. We need counselors for the following Merit Badges: Citizenship in the Community, Nation, World, Environmental Science, Cooking, First Aid, Emergency Preparedness to just name a few. There are many many other badges as well. If you have any interest in becoming a Merit Badge Counselor, please reach out to SM Breitenbach.