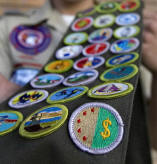 Merit Badge College 2015
Attend and earn valuable badges. Scouts must be at least First Class rank.
Click on the "activities" link above for details.

BSA Apparel Sale. Save up to 50%.
With prices starting at $7.99, the on-line scout store is
offering hoodies, t-shirts and caps at reduced prices.

Shop at Amazon.com for the holidays and donate to the Boy Scouts. No cost to you

Shop at Amazon by clicking on this link. 4% to 6% of your purchases (part of Amazon's profit) will be donated to our Boy Scout branch, the Connecticut Yankee Council. The prices you pay for your Amazon purchases are the same and Council cannot identify the purchases of any visitor to the website through the link.

When you're ready to shop on Amazon, reach the site through this unique link and help our area scouting programs.
Stay on top of troop happenings by clicking on the "calendar" and "activities" links near the top of this page.