Camp Sikorsky
Sept. 19th - 21st, Stratford, Conn.
There are openings for five scouts and one adult for this
great campout to earn Merit Bages and tour the
helicopter factory. Camp out is open to First Class scouts
at least 14 years old.
Click on the "activities" link above for details and to sign
up. Deadline is August 1st.
Camp Sequassen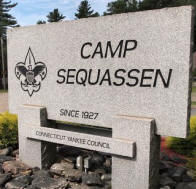 Watch the slideshow here
For those taking troop equipment from camp to Jesse Lee, please return at the QM room this Saturday, 26th from 2:00 p.m. - 3:00 p.m.

Click here for driving directions from Jesse Lee to Camp Sequassen. Estimated travel time is little over an hour in light traffic.
All camp details here

Troop Scouts earn Presidential Award
Congratulations to senior scouts Miller V. and Mark L. for
earning the Bronze Presidential Volunteer Service Award for at least 100
hours of community service. Their efforts help maintain our hard-earned
reputation in town as the "service troop."
Help our Community by Volunteering for Service Projects
Scouts and parents have many opportunities to earn service hours and, most importantly, contribute to Ridgefield. Clicking on the "activities" link above for details.
Remember, scouts need at least six service hours between the Ski Trip and the Big Trip. Read our policy here.
Buy at Amazon.com and benefit the Connecticut Yankee Council. No cost to you. Shop at Amazon through this unique link and 4% to 6% of your purchases will be donated to Council. It's that simple. The prices you pay for your Amazon purchases are the same and Council cannot identify the purchases of any visitor to the website through the link.


When you're ready to shop on Amazon, reach the site through this unique link and help our area scouting programs.
Stay on top of the schedule by clicking on the "calendar" and "activities" links near the top of this page.