Enjoy your Summer Vacation. Our scouting year will begin in September. Remember that the Scout Oath and Law are important all the time. And please Do a Good Turn Daily.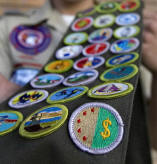 Merit Badge Counselors Needed
Our troop needs parents to become Merit Badge Counselors. We need counselors for the following Merit Badges: Citizenship in the Community, Nation, World, Environmental Science, Cooking, First Aid, Emergency Preparedness to just name a few. There are many many other badges as well. If you have any interest in becoming a Merit Badge Counselor, please reach out to SM Breitenbach.
The Planned Activities Calendar for the last scouting year can be seen here.