End of Year Court of Honor
Tuesday, June 14th from 6:00 p.m. to 8:30 p.m. at Woodcock Nature Center.
Our end of year Court of Honor will be held on Tuesday June 14th at Woodcock Nature Center. We will have a 6:00 hike, 6:30pm dinner and the ceremony will be at 7:00pm. More details to come!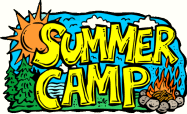 Camp Sequassen
Sunday, July 17th - Saturday, July 23rd
Join your friends for a week of summer camp. Earn valuable merit badges. Fun activities and events. For complete information, check out our Sequassen page here.

Philmont Scout Camp
August 10 - 17, 2017, Cimarron, New Mexico
The troop is planning to participate in this incredible high adventure in the summer of 2017. On
Tuesday, January 19th at 7:00 p.m...before the weekly meeting...Mark Liguori will explain the
Philmont adventure and share his experiences in 2012. Eligible scouts for next year's Philmont
trip must have completed the 8th grade and have reached the rank of First Class by the Summer of
2017.

Shop on line and donate to scouting. It's free.
Our regional BSA office, the Connecticut Yankee Council, benefits when you shop at Amazon,
eBay, Cabelas, Eastern Mountain Sports, REI, and others. These retailers agreed to split some of
their income with Council. It's easy and costs you nothing. Help scouting by starting here then
choose your store.

Class B Shirts
If you need a Class B shirt please contact Mrs. Francis. The cost of the shirt is $13.

Stay on top of troop happenings by clicking on the "calendar" and "activities" links near the top of this page.