October Campout
Friday, October 25th - Sunday, October 27th
Join your friends for a fun weekend campout at Kirby Hill Farm in Pawling, NY. Participants will meet at Jesse Lee at 4:30 p.m. on Friday to load gear and drive some 40 minutes to Pawling. Since we won't be cooking Friday night, scouts and adults should eat dinner before or bring dinner with them.
The schedule calls for an early rise on Saturday morning to go on a 5 mile hike (the distance may vary based on ability). We will then return to the campsite and offer rank advancement activities during the afternoon. There is a large field next to the campsite where we can play football, Frisbee, etc. If you're interested in playing, please bring a football, Frisbee, etc. The later part of the afternoon and evening will be spent setting up for dinner as well as a Halloween competition that Tommy K. and Spencer are planning (more information about will be given Tuesday). On Sunday morning, we'll prepare breakfast, break down camp and return to Jesse Lee.
There is no cost for the trip. Please remember to dress appropriately for the weather. At Tuesday's meeting, we'll plan for cooking and tenting. All scouts attending the campout please plan to attend Tuesday's meeting. There is also an option for scouts to camp only one night and as always we need at least 4 adult chaperones for the camping trip or we may have to cancel!

To sign up, please click here. Please download and complete the permission slip to Tuesday's meeting. Any questions, please contact ASM Natarajan.

Upcoming Meetings
Tuesday, October 22nd - Regular Meeting
- Service Patrol Medocer

Tuesday, October 29th - Patrol Leaders Council Meeting - 7:00 p.m.
- Only scouts in a leadership role and uniformed leaders need to attend.
- Any scout who has earned a new rank and has completed a Scoutmaster Conference can email Mrs. Bazarian
to schedule a Board of Review for this night.
Community Service Projects
Click on the "activities" link above for opportunities and details.
Recruiting Committee Needs Your Help
We're taking a different approach to recruit new scouts. We plan to reach out to local churches, community organizations and others to see if any boys are interested in joining Troop 76. If you have a contact in any of these organizations, please inform Scoutmaster Breitenbach. And our Recruiting Committee could use help, so contact Troop committee Chair Tiffany Carlson if you would like to join.

Financial Assistance
If a scout family is in need of financial assistance at any time, please contact Troop Committee Chair Tiffany Carlson. All financial assistance requests are kept strictly confidential.
BSA Today
Check out a new series of short videos from Boy Scouts of America about current topics.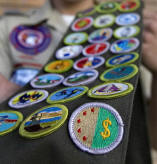 Merit Badge Counselors Needed
Our troop needs parents to become Merit Badge Counselors. We need counselors for the following Merit Badges: Citizenship in the Community, Nation, World, Environmental Science, Cooking, First Aid, Emergency Preparedness to just name a few. There are many many other badges as well. If you have any interest in becoming a Merit Badge Counselor, please reach out to SM Breitenbach.