Adirondack LOJ Trip - Canceled
Due to scheduling conflicts with school events, there wasn't enough interest in this trip which was originally scheduled from Friday Oct. 18th - Sunday Oct. 20th
Hammonasset Camping/Fishing Trip
Friday, September 27th - Sunday, September 29th. Hammonasset Beach State Park, Madison, Connecticut
Our first camp out of the scouting year is one of the most popular. Join your friends and
sign up
for the annual Hammonasset Camping and Fishing Trip. In addition to camping out in
a terrific state park
on the Long Island Sound at Madison, Connecticut, you'll have an opportunity to catch fish from the sound in
the charter boat,

Mijoy
.
This camp out is also a good chance for any scout who would like to work on the Fishing Merit Badge. Be sure to ask Scoutmaster
Breitenbach
for a blue card and check in with
ASM Carlson
, our Fishing Merit Badge counselor.
Plans call for scouts and adults to meet at Jesse Lee around 4:30 p.m. on Friday, Sept. 27th to load the cars and head to Hammonassett State Park. At the park, we'll set up camp, relax and get ready for an early morning wake up the next morning. The fishing group will leave Hammonasset at 5:00 a.m. for a 30 minute drive to Waterford, Connecticut for a half day of fishing on the fishing boat. Check out the schedule below.

The cost for this trip is $45/scout and $65/adult. This fee covers the fee for the Mijoy fishing boat, lunch on Saturday and camping.
Adults and scouts interested in attending can

sign up here

. Any questions please contact

ASM Trotman.
Downloads:
Permission Slip
Equipment List
Itinerary

Upcoming Meetings
Tuesday, September 17th
- Regular Scout Meeting, Jesse Lee Carriage House at 7:30 p.m.

Tuesday, September 24th - Patrol Leaders Council Meeting - 7:00 p.m. at the Carriage House
- Only scouts in a leadership role and uniformed leaders need to attend.
- Any scout who has earned a new rank AND has completed a Scoutmaster Conference can email Mrs. Bazarian to schedule a Board of Review for this night.
Community Service Projects
Click on the "activities" link above for opportunities and details.
Thinking about college? Consider a U.S. Service Academy
When considering which colleges to apply this fall, think about applying for a military service academy. Currently, there are two Troop 76 Eagles in service academies, Jack Keating at West Point (Army) and Thomas Vilinskis at Annapolis (Navy). Stephen Da Cruz, who earned Eagle in 2012, is a Navy pilot following graduation from Annapolis. And other former troop scouts are currently serving in the military.

The United States Service Academy's purpose is to educate and train future commissioned officers for the United States Armed Forces. If accepted, you will get free tuition, including room and board, specialized training and a commission to the service branch of your academy.

There are five U.S. Service Academies: the United States Military Academy, the United States Naval Academy, the United States Air Force Academy, the United States Coast Guard Academy and the United States Merchant Marine Academy.

Should you be interested in applying, check out Congressman's Jim Himes website and learn more about this great opportunity. Nominations must be submitted before Friday, October 4, 2019. If you have questions about the nomination process or submitting your application, please call the Congressman's Service Academy Coordinator, Joshua Rodriguez, at 203-333-6600.
BSA Today
Check out a new series of short videos from Boy Scouts of America about current topics.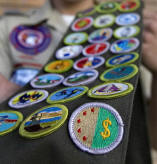 Merit Badge Counselors Needed
Our troop needs parents to become Merit Badge Counselors. We need counselors for the following Merit Badges: Citizenship in the Community, Nation, World, Environmental Science, Cooking, First Aid, Emergency Preparedness to just name a few. There are many many other badges as well. If you have any interest in becoming a Merit Badge Counselor, please reach out to SM Breitenbach.