Thanks from the Community
Volunteering for service projects makes a difference. In a letter to the editor of The Ridgefield Press, town Fire Chief Kevin Tappe thanks Troop 76 scouts and adults for clearing fire hydrants. And Founders Hall wrote to the troop, thanking us for volunteering at Ridgefield's senior center. We'll be honored during a special luncheon at Founders Hall in early April.
Please remember to sign up for service projects by clicking on the "activities" link above. The troop is grateful for Troop Committee Member Mrs. Tebbutt and ASM Mrs. Herlihy for coordinating our community volunteer efforts.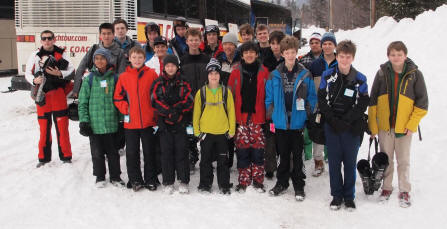 Ski Trip Slideshow
See photos here. In addition to skiing, scouts
enjoyed a pizza dinner, bowling and swimming.
Special thanks to ASM Wroblewski for
coordinating the trip.

Donate to the Boy Scouts...for free.
Shop at Amazon by clicking on this link. 5% of your purchases (part of Amazon's profit) will be donated to our Boy Scout branch, the Connecticut Yankee Council. The prices you pay for your Amazon purchases are the same and Council cannot identify the purchases of any visitor to the website through the link.

Stay on top of troop happenings by clicking on the "calendar" and "activities" links near the top of this page.