Upcoming Activities (for details, click on the "activities" link above)
- The Big Trip to New Hampshire is Friday, June 28 - Sunday, June 30.
Camp Sequassen, July 21st - 27th
Payment and all forms are due now. Click here for our comprehensive web page on everything Sequassen. If you have any questions, please contact Summer Camp Coordinator Nicole Genna at nsgenna@comcast.net

Camp Cards - a personal fundraising tool
Established by the Connecticut Yankee Council, the Camp Cards fundraising program is a great way for Scouts to earn money to pay for camp, uniforms, equipment, and Troop 76 adventures. Selling Camp Cards is simple. Units participating in this program will earn 50% commission ($2.50) on each $5 Camp Card they sell. If you're interested, please contact Mrs. Carlson, carlsonfamily5@mac.com for details. For background information, but not ordering, here's the camp cards web page on Council's web site.
Service Projects
Click on the "activities" link above for details.
Parents: Be an Assistant Scoutmaster
While we have a scout run troop, adults are needed to supervise the program. Please help the scouts make the most of their experience by becoming an Assistant Scoutmaster. With the cost covered by the troop, the first step is attending the mandatory class, "Intro to Outdoor Leadership Skills". It will be offered at nearby Hoyt Camp in Redding on April 12th - 13th, or at Deer Lake Scout Camp at Killingworth, Conn. from April 26th - 27th.

In addition to helping scouts, being an ASM will create life-long memories for you. Please contact our Troop Training Coordinator, Kristine Keaveny, with any questions about ASM training. For more information about the April 12-13 session, click here, or here for the April 26-27 session. Thank you for volunteering.
Please Volunteer for a position on the Troop Committee
It's responsible for supporting troop leaders in delivering quality programs, handling troop administration and establishing policies. (please read more here) Our Troop Committee, which meets monthly, is an opportunity for parents to volunteer for important roles in the troop. Open positions are:
Wreath Sale Fundraiser Coordinators to manage and organize our annual Wreath Sale Fundraiser. Last year's coordinators will be available to provide guidance and assistance.
Community Service Coordinator works with community organizations to organize service opportunities and post them on-line for scouts and adults.
If you are interested in learning more about these positions or any other roles on Troop Committee, please contact Committee Chair Tiffany Carlson.
BSA Today
Check out a new series of short videos from Boy Scouts of America about current topics.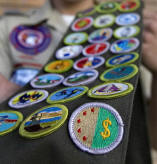 Merit Badge Counselors Needed
Our troop needs parents to become Merit Badge Counselors. We need counselors for the following Merit Badges: Citizenship in the Community, Nation, World, Environmental Science, Cooking, First Aid, Emergency Preparedness to just name a few. There are many many other badges as well. If you have any interest in becoming a Merit Badge Counselor, please reach out to SM Breitenbach.
The Planned Activities Calendar for the 2018-19 scouting year is available here. Please keep in mind that it may be revised.