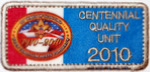 This page last updated on Friday, March 27, 2015 05:17:01 AM
For information, e-mail the Webmaster or Scoutmaster
Troop 76 is a member of the Scatacook District in the Connecticut Yankee Council, and sponsored by
Jesse Lee Memorial Church, 207 Main St., P.O. Box 441, Ridgefield, CT 06877
© Copyright 2013, Boy Scout Troop 76, Ridgefield, Connecticut. All rights reserved.